Who will be left standing?
Nearly every industry is hurting in some way as a result of the pandemic, and many—but not all—could be permanently impaired or forced to change the fundamentals of the way they operate.
We weigh in.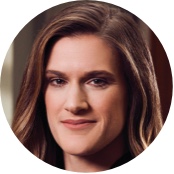 Contributor
Meghan Shue, Head of Investment Strategy for Wilmington Trust Investment Advisors, Inc. View bio
Contributor
Jessica Blitz, Research Analyst for Wilmington Trust Investment Advisors, Inc. View bio
These three industries are fighting for their lives during the Great Pandemic.
Click on a button below to jump directly to a section, or scroll down to see them all.
Real Estate
More and more people are getting out of Dodge—that is, out of urban centers into second-tier cities and suburban neighborhoods. With living space increasingly doubling as work space, businesses are looking to accommodate employees fleeing to the Sun Belt or the Midwest.
2Q net absorption by region
High-growth areas in the Southeast and Midwest were the only regions to see an increase in office demand in 2Q 2020.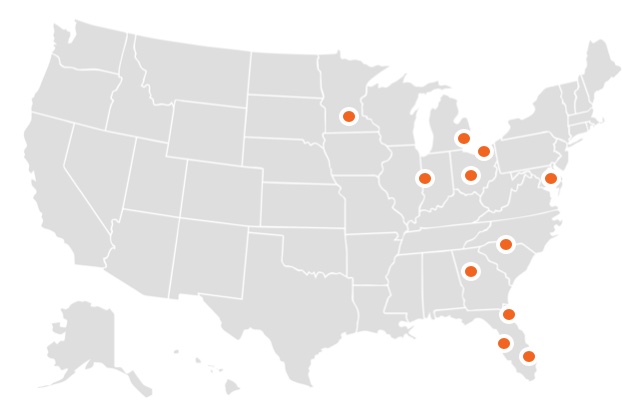 Indianapolis
180,913
+0.5%
Minneapolis/St. Paul
193,694
+0.3%
Palm Beach County
41,959
+0.2%
Jacksonville
36,111
+0.1%
Washington, DC
214,375
+0.1%
$28T
Size of the private and governmental nonresidential real estate market1
2.2B
Square feet of office space Facebook has acquired in Manhattan; tech companies have increased their footprint in the Big Apple over the past year, which may help offset some of the COVID-forced departures by other companies2
60+
Number of underutilized retail spaces converted to last-mile (near-delivery) warehouses since 20173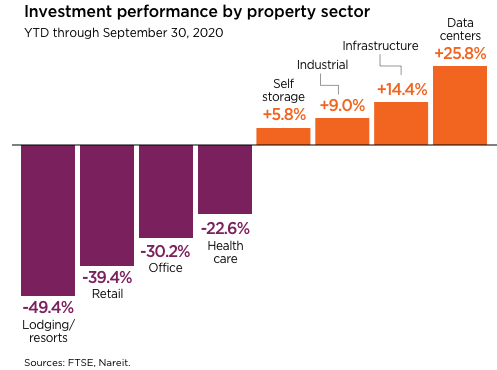 Podcast
A conversation with . . .
Kelly Rush, CIO of Principal Real Estate Securities

Office space has largely emptied in light of COVID-induced working from home. See what's ahead for the commercial real estate sector.
Listen
Travel/Tourism
Nearly half of the 17 million leisure and hospitality jobs in the United States disappeared in March and April, taking out a significant chunk of the global leisure travel industry's pre-pandemic market value of $4.7 trillion.4
U.S. domestic flight projections, as of June 2020
In millions
*July 2020–2021 are projections. Source: U.S. Travel Association.

Podcast
A conversation with . . .
Axel Hefer, CEO of Trivago

The virus has brought business and leisure travel to a halt, hurting companies that rely on it. Can a multi-trillion-dollar market shift tactics to protect against further devastating losses?
Listen
Disney's theme park segment's 2Q 2020 loss is an example of the broader industry income pinch.
Domestic Parks, Experiences, and Products revenue vs. total Disney revenue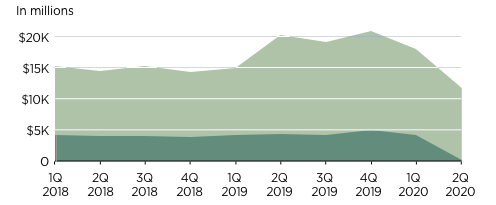 Source: Disney.
Parks, Experiences, and Products
Total
75%
Estimated percentage of airline revenue attributed to business travelers, who make up only 12% of all passengers5
-96.3%
Year-over-year change in casinos revenue in April 20206
-72%
January–August 2020 decline in returns for Norwegian Cruise Lines, the worst-performing stock in the S&P 500 over that period 7
Retail
31 North American retailers declared bankruptcy in 2020, 26 of which did so after the U.S. outbreak. A spike in e-commerce represents a permanent, structural shift that has been accelerated by the pandemic.8
Anchor Tenants
Anchor tenants make up around 30% of leasable area in malls, and are essential in drawing customers. Up to half of all anchor stores are estimated to close by the end of 2021.9
E-commerce sales as a percentage of total retail sales, with
Amazon an important component of the e-commerce industry

For example, Target, as one of the few stores to provide omni-channel delivery prior to the pandemic, benefited from increased usage of curbside pickup once people began avoiding in-person shopping. Although it had been offering curbside pickup for some time, its use was minimal until the massive uptick in orders once social distancing was in full swing.
734%
Hike in Target's 2Q 2020 curbside pickup orders, which cost the company up to 90% less than fulfillment using distribution centers.10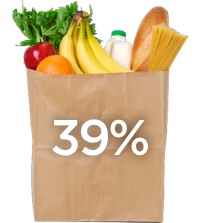 Consumers 60 years and older who reported purchasing groceries online for the first time during the pandemic.11

Podcast
A conversation with . . .
Mark Mathews, Vice President of Research Development & Industry Analysis at the National Retail Federation

Increased time spent at home has markedly transformed the way we buy and receive goods. See if the brick-and-mortar storefront is on its way out for good.
Listen
The landscape of business is evolving due to the pandemic, along with accelerating trends. So when the COVID dust settles, which industries will have toppled—and which will be left standing?
Learn More
Let's have a conversation about what the insights and trends revealed in our 2021 Capital Markets Forecast could mean for your investment portfolio and overall wealth management plan.