Income inequality
One of the most unfortunate prices we may pay from the pandemic is an increase in income inequality, as the pandemic has unevenly affected those of different income groups. This has the potential to change the shape of the economic recovery and could have longer-lasting impacts on economic policy.
Income inequality was already rising . . .
The share of income held by the top 1% of earners has nearly doubled since 1980, while the share held by the bottom 50% has declined by a third as of 2019.
Shares of pre-tax national income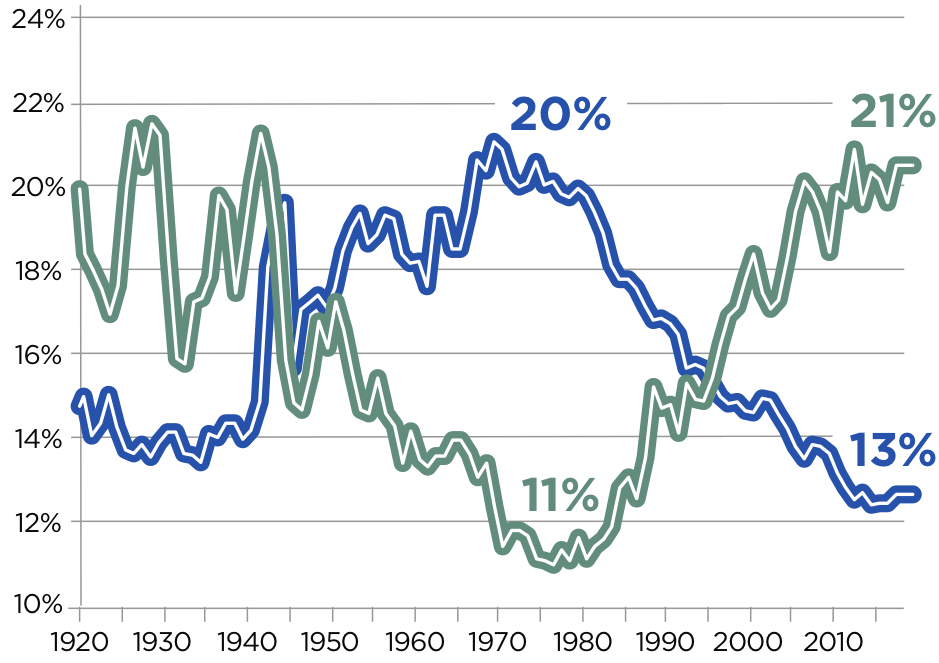 Pre-tax national income, bottom 50%Pre-tax national income, top 1%
Source: World Inequality Database; https://wid.world/country/usa/
Data as of 2019.
. . . Then along came the pandemic
Low-income households have been severely impacted by COVID-19, while high-income households have taken a smaller hit.
High-income households
Low-income households
Three potential impacts
In the near term, slower re-employment of low-income jobs lost as a result of the pandemic may dampen consumer spending and the recovery
In the longer term, fewer employment opportunities for low-income workers due to structural changes in the economy may lead to lower labor force participation, weighing on long-term potential growth
Income inequality can potentially lead to populist economic policies (such as tariffs or higher taxes) that may substantially impact the economic and market outlooks
In contrast to COVID's impact on human health, which varies widely based on the individual, the virus has uniformly accelerated trends across the economy. Income inequality is one of these phenomena that has been exacerbated by the virus's impact on employment, wealth, and consumer spending. Why does this matter for investors? First, the side effects of income inequality can take shape as populist economic policies (from both the right and the left) which in turn can alter the economic and market outlooks. Second, the lopsided impacts of the pandemic on lower-income households will impact the shape of the economic recovery and longer-term growth.
Mind the (income inequality) gap
A widening gap in income inequality in the U.S. was well under way prior to the pandemic due to a number of factors: the rise of automation; globalization; the decline of labor unions; a shift toward less-progressive tax rates; deregulation; and a corresponding increase in industry consolidation. As a result, income has been growing at a faster rate for high-wage workers relative to low-wage workers since the 1980s. From 1979–2017, average income (before transfers and taxes) for households in the highest quintile grew by a cumulative 108%, compared to 35% for households in the lowest quintile.1
Income inequality has been on the rise since the 1980s

Trends in distribution of income before transfers and taxes (thousands of dollars)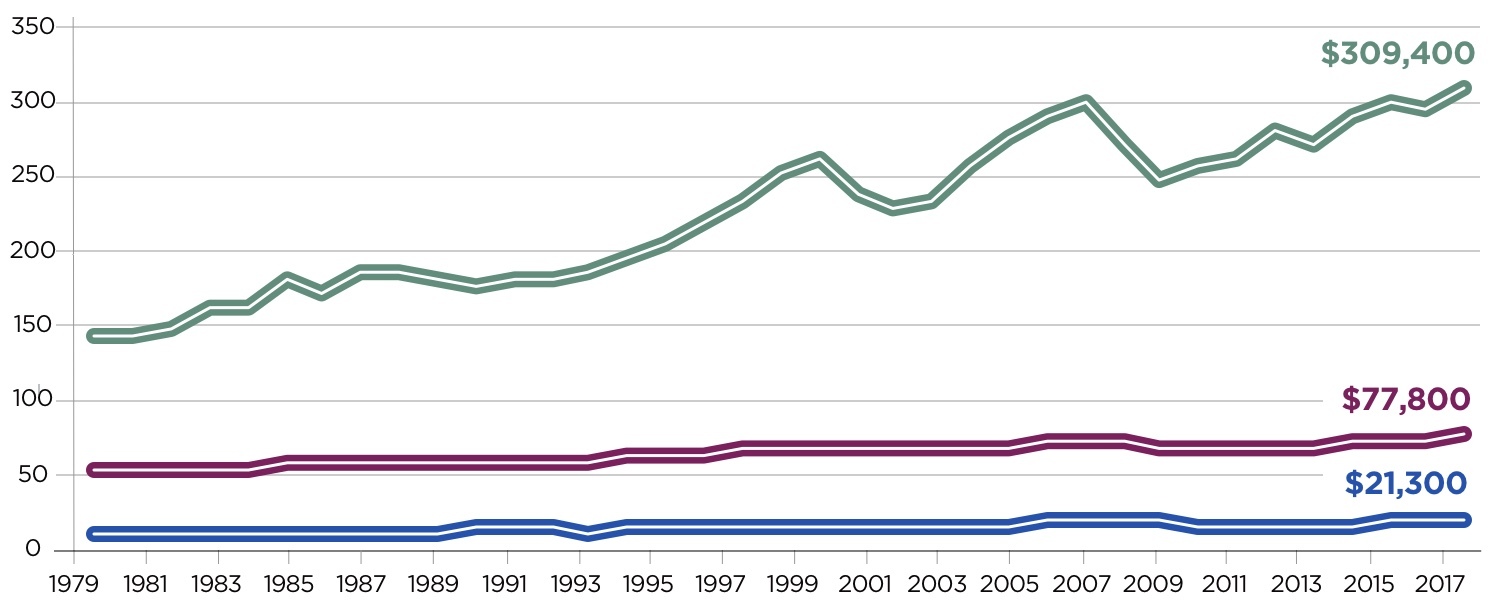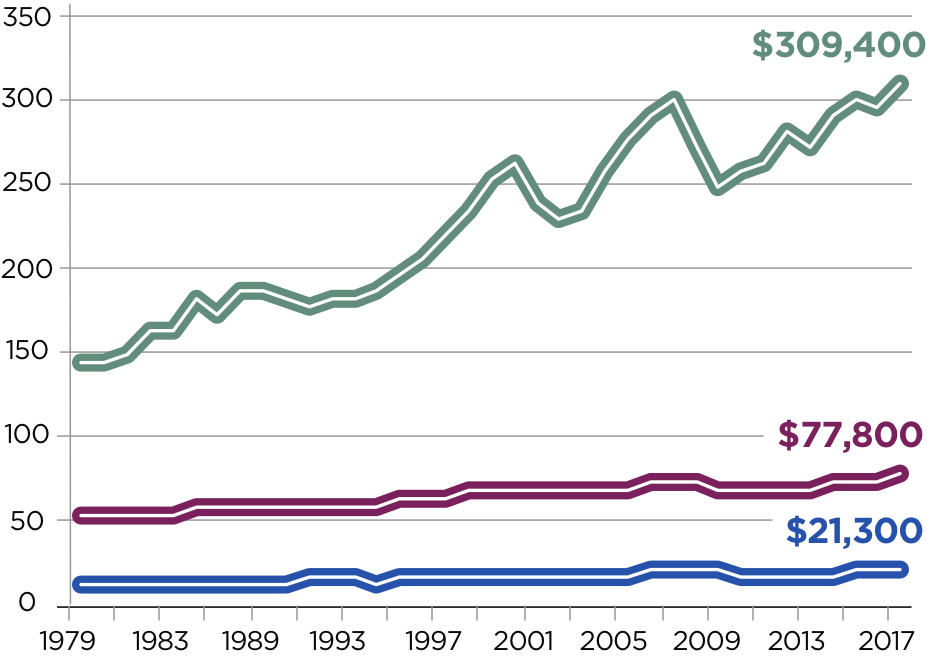 Highest quintile (top 20% of income distribution)
Middle quintiles (20% to 80% of income distribution)
Lowest quintile (bottom 20% of income distribution)
Source: Congressional Budget Office.
An unequal distribution of income can lead to populist economic policies that seek to correct for this inequality. While we do not take a normative view on whether these policies are good or bad, we do note that they have a substantial impact on the economy and markets. Tariffs imposed in the escalation of the U.S.-China trade war, for example, weighed on manufacturing sentiment, slowed a prior upswing in global growth, and started the process of supply chain reevaluations for many companies (that has since been accelerated by the pandemic). Similarly, potential changes to corporate, capital gains, and wealth taxes, or antitrust or health care policies, could all have implications for markets.
Persistent levels of income inequality can also weigh on long-term potential growth when it impedes workers' access to education, job opportunities, and health care.2 The Federal Reserve, while acknowledging it does not have the tools to directly target income inequality, has noted the issue's importance. In its monetary policy framework that was revised in August 2020, the Fed augmented the description of its employment mandate as a "broad-based and inclusive goal." Income inequality will likely remain a key issue for the Fed and markets as the economy recovers, given the pandemic's effect of further widening the pre-existing gap.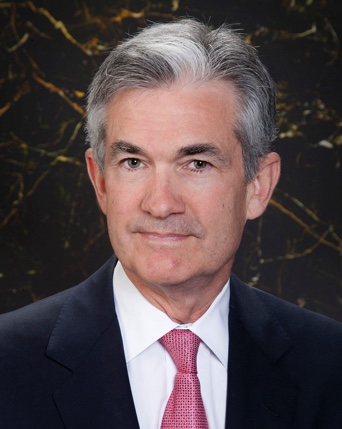 "… disparities in income and in financial well-being by various demographic and racial categories is something we monitor carefully... I would point to the relative stagnation of incomes for people at the lower end of the income spectrum, and also lower mobility... the productive capacity of the economy is limited when not everyone has the opportunity, has the educational background and the health care and all the things that you need to be an active participant in our workforce."
— Fed Chair Jerome Powell, September 16, 2020 press conference3
Low-income employment: harder hit, slower recovery, depressed long-term demand
The sudden and drastic measures taken at the outset of the pandemic to flatten the epidemiologic curve took a harsh toll on the labor market. In just March and April, the Bureau of Labor Statistics (BLS) reports that 22 million jobs were lost, wiping out nearly all of the jobs created over the prior 10 years. The unemployment rate spiked to 14.7%, its highest since the Great Depression. The steepest losses were seen in service industry jobs in which high levels of personal contact are required—such as medical office and restaurant workers, salon attendants, personal trainers, etc.
Change in employment: high- vs. low-income workers

% change since January 2020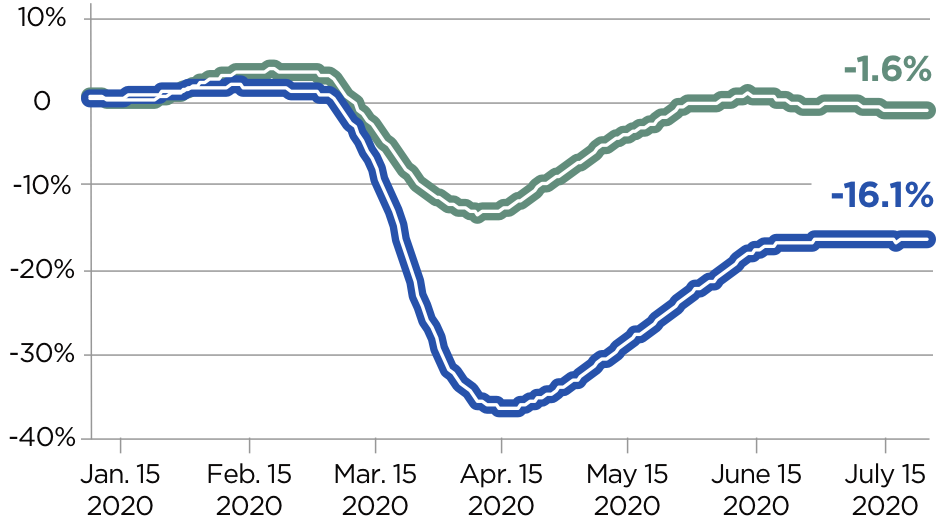 High-income workers (>$60,000)Low-income workers (<$27,000)
Source: Opportunity Insights.
Data as of July 29, 2020.
Harder initial hit. Many of these lost jobs cluster at the lower end of the wage spectrum. In fact, the two industries with the highest job losses at the peak of the shutdowns during March and April were also those with the lowest average hourly wages. Leisure and hospitality, along with retail, accounted for 60% of all losses, according to the BLS. The impact of employment losses was also borne disproportionately by women, minorities, and those with lower levels of education.
Women: In contrast to the past four recessions, the unemployment rate for women (16.2%) outstripped that for men (13.5%) in April given the high concentration of female employment in the services sector (54%).
Source: Bureau of Labor Statistics.
Minorities: April unemployment rates for African-American individuals surged to a peak of 16.8% in May, and 18.7% for Hispanics in April, vs. the national rate at 14.7%. The differentials for these groups vs. the nation are persistent and were exacerbated by the pandemic.4
Source: Bureau of Labor Statistics.
Lower education: The unemployment rate for those without a high school diploma spiked by 15.5 percentage points from February to 21.2% in April, more than twice the jump for those with a bachelor's degree or better (+6.5 percentage points to 8.4%).
Source: Bureau of Labor Statistics.
Unemployment rate (ages 25 and over), by education level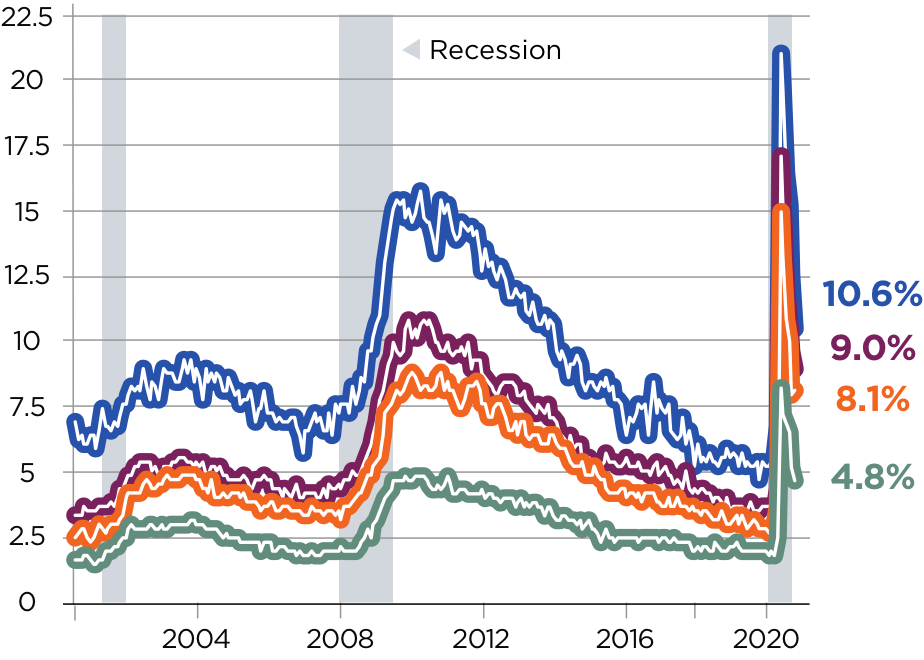 Less than a high school diploma
Some college or associate's degree
Bachelor's degree and higher
Sources: Bureau of Labor Statistics, Macrobond.
Data as of September 30, 2020.
Slower recovery back to pre-COVID levels of employment. The largest job gains in the months since April have been in low-income industries, like leisure and hospitality, and retail. However, this is due to the fact that these are the industries that saw the steepest job cuts at the outset of the pandemic. Data from think tank Opportunity Insights suggest that even with these gains, low-income employment remains significantly depressed compared to pre-COVID levels, and continues to lag the recovery of high-income employment. Ongoing social distancing means that jobs in many low-wage, close personal-touch service industries will remain vulnerable until consumer demand fully returns.
Low-wage workers are also significantly less likely to be able to work remotely, making it more difficult to return to work as social distancing continues. Those with children who are attending school virtually may run into challenges as well. The situation is similar for some minorities and those with lower levels of education. While 29% of individuals are able to work from home, only 20% of African-American and 16% of Hispanic workers are able to work from home. Meanwhile, only 4% of workers with less than a high school education and 13% of those with a high school degree are able to work from home, compared to 24% for those with some college or an associate's degree, and 52% for those with a bachelor's degree and higher.5
Percent of work-from-home workers, by earnings quartile (%)

Data are an average for 2017–2018.
Depressed long-term demand. A few factors suggest that low-income workers would feel the pain in labor markets for an extended time. A study on the impacts of COVID on the workplace showed low-income workers would be more vulnerable to further potential job losses due to a number of longer-term structural shifts in consumer behavior as a result of the pandemic:6
Source: David Autor and Elisabeth Reynolds, Brookings Institute, https://www.hamiltonproject.org/assets/files/AutorReynolds_LO_FINAL.pdf
Yes, the rich are getting richer
By historic measures, the wealth inequality gap is now even wider than that for income. And higher concentrations of wealth at the top of the income distribution spectrum contribute to deepening income inequality due to the ability of those households to generate additional income. There are a variety of possible income sources, such as: invested funds; real estate; investments in the fulfillment of human capital potential (such as education or training); or other forms of capital investment (such as entrepreneurial activities). Those with less wealth have fewer opportunities to augment their income via these means.9 The top 1% of income earners now hold roughly a quarter of the nation's wealth, four times the share held by the bottom 40% of income earners. And the pandemic's impact on the housing and equity markets is likely to widen the wealth gap due to broad disparities in holdings of these assets by income level.
Shares of wealth by income percentile (%)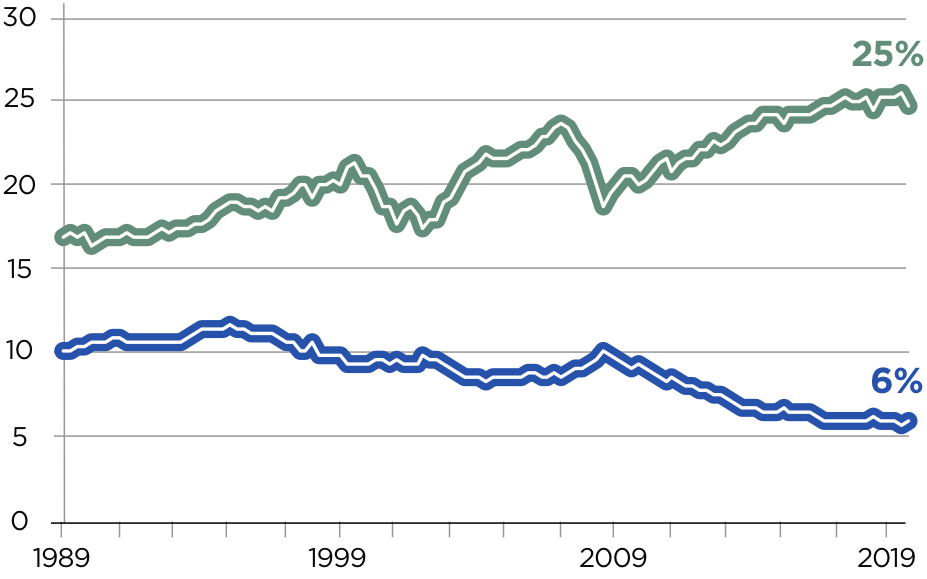 Source: Federal Reserve Distributional Financial Accounts.
Data as of September 30, 2020.
Housing assets and mortgage debt: The housing market has been perhaps the brightest spot in the economy, driven by low interest rates, increasing work-from-home arrangements, and a rising trend of households moving from dense urban locations to suburban locations as a result of the pandemic. However, the benefits of this swift housing rebound are likely to accrue most directly to wealthier homeowners. Federal Reserve Distributional Financial Accounts report that the top 10% of the income distribution hold 58% of real estate assets, while the bottom 40% hold just 12%. Notably, African-American and Hispanic householders lag the overall homeownership rate. On the positive side of things, households across the income spectrum should benefit from the opportunity to reduce mortgage debt through refinancing at lower interest rates. (Mortgage debt accounts for more than 50% of debt for all income brackets.)
Income inequality in the housing market
Low-income and minority households are less likely to benefit from post-COVID-19 housing bounce
Home ownership rate by income, 2Q 2020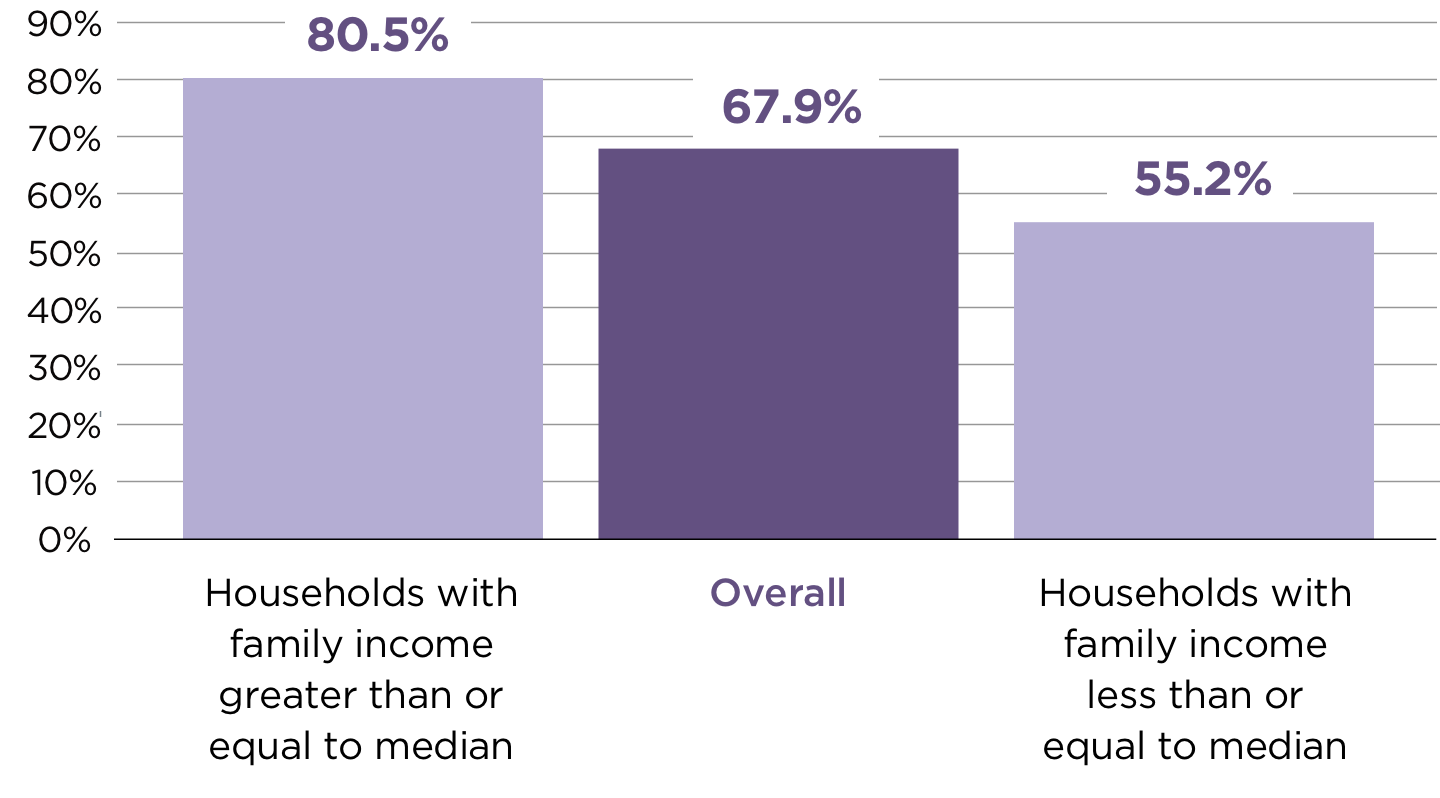 Source: Census Bureau.
Home ownership rate by race/ethnicity, 2Q 2020
The rich have greater market share: High-income households hold a starkly higher share of equities relative to low-income households. As a result, bull markets have a disproportionately positive impact on upper-income household wealth. On net, equity markets have proven to be an outsized factor in driving income inequality, as equity markets have generally trended upward over time. In fact, over the past 100 years, the S&P 500 index earned a positive annual return 75% of the time and an average annualized total return of 10.3%.10
Distribution of corporate equities and mutual funds by income quintile

% shares as of 1Q 2020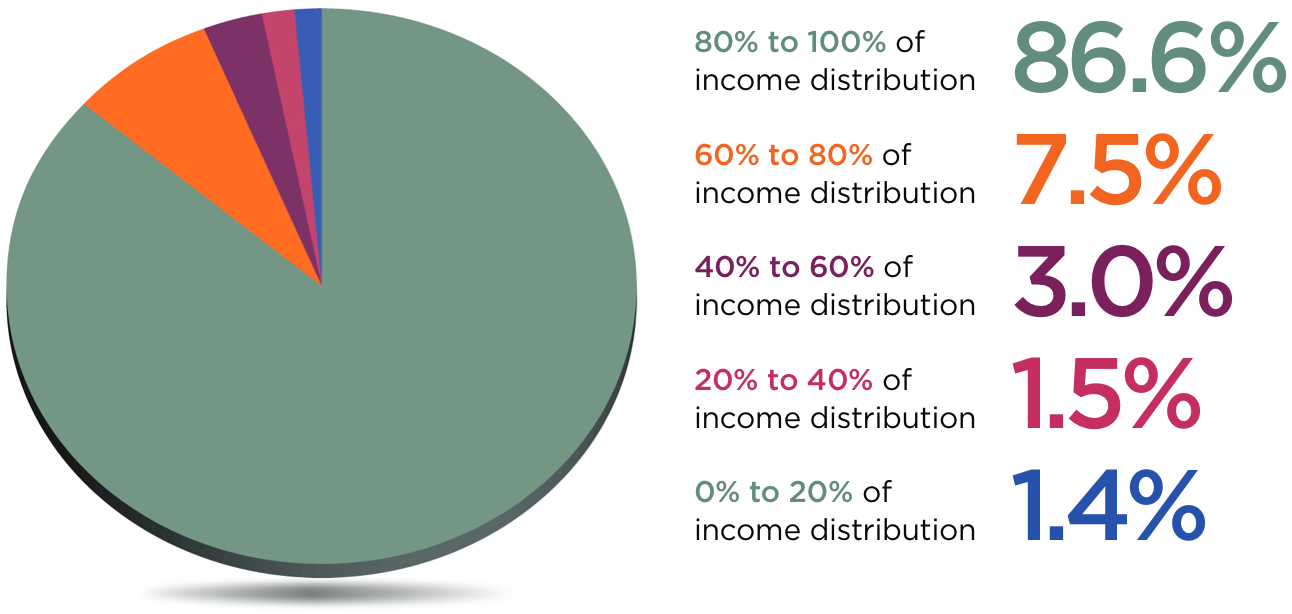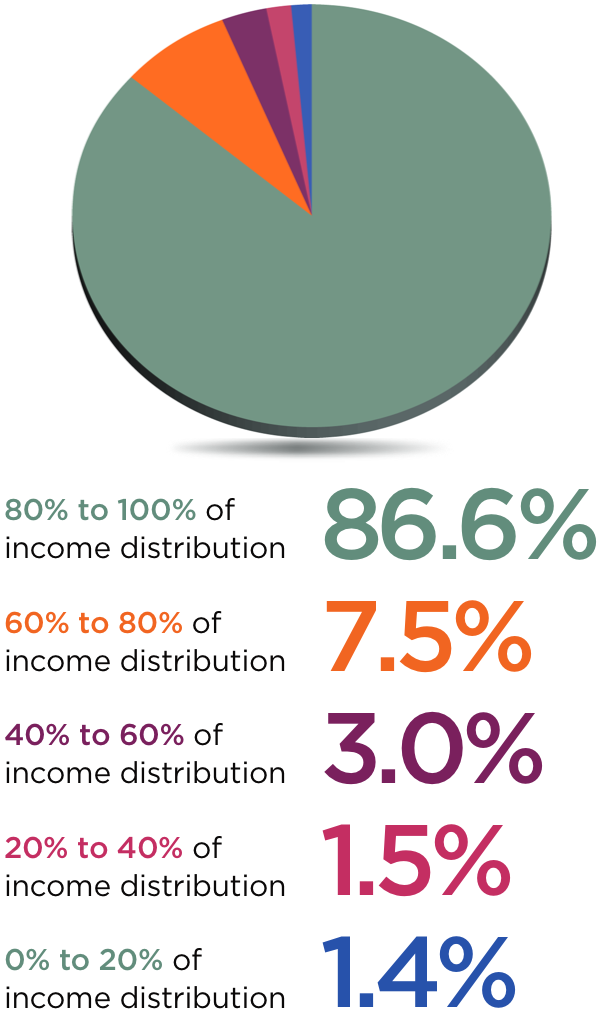 Source: Federal Reserve Distributional Financial Accounts.
Consumer spending: typical recession spending patterns turned upside down by magnitude of fiscal stimulus
Consumer spending contracted sharply at the outset of the pandemic, driven initially by the impact of widespread lockdowns. Nine months in, dollars spent on services that require close-touch personal contact as described above still lag pre-pandemic levels. Meanwhile, consumers have replaced some of their spending on services with outlays on durable goods. This has boosted purchases of home improvement and entertainment goods, appliances, and electronics.
With COVID-19 exacerbating the disparities in income and wealth, it might come as a surprise that high-frequency data show spending by low-income households declined by less and has recovered more quickly than for those with high incomes. A few factors explain this dynamic.
Sharper spending cutbacks by high-income households due to virus concerns: Researchers tracking this data11 find that while virus-wary high-income households showed little decline in income, they nonetheless cut back sharply on spending. These cutbacks in spending were strongly felt in overall consumption. The top 20% of consumers by income account for 40% of total spending, according to data from the Bureau of Labor Statistics.
Stimulus provided low-income workers with a material boost to incomes, savings, and spending: While the easing of lockdowns in mid-April coincided with the bottom in spending for both low- and high-income households, the pace of recovery was swifter for low-income households. This is attributed to the economic stimulus provided by the CARES Act, which targeted lower-income households. One study of stimulus recipients found that on average, roughly 40% of these payments were spent on durable goods, food, medical supplies, and consumer products; 30% was saved, while 30% was used to pay down debt.12 They also found that between April and July 2020, 76% of workers who lost their jobs were eligible for unemployment insurance benefits that exceeded their lost wages.13 As a result, these CARES Act benefits helped boost savings as well as spending.
Change in consumer spending: high- vs. low-income households

% change since January 2020

High-income households (>$78,000/year) Low-income households (<$46,000/year)
Source: Opportunity Insights. Data as of September 13, 2020.
Savings and debt levels: starting from a better place compared to the financial crisis
As the economy moves into recovery stages, the outlook for consumption, which accounts for nearly 70% of GDP growth, will depend on how the still-elevated numbers of unemployed (largely low-income) workers utilize savings and debt to sustain spending. The pace of recovery for low-income workers will remain important, as the bottom 80% of the income distribution still accounts for 60% of consumption, according to data from the BLS Consumer Expenditure Survey.
Savings: Elevated savings as a result of the fiscal stimulus will likely keep low-income households solvent in the near term. Our estimates suggest that unemployment insurance benefits plus stimulus checks covered an additional 1.4 months of typical spending patterns for households in the bottom 80% of the income distribution (with two adults and two children), and would cover roughly two months of essentials (food, clothing, shelter, etc.). Households may actually have a little extra wiggle room, however, as they likely have been spending at a slower rate compared to typical patterns—particularly for health care, transportation, and other services with high-touch personal contact. Housing-related forbearance programs may also have provided some relief.
U.S. personal savings rate (%)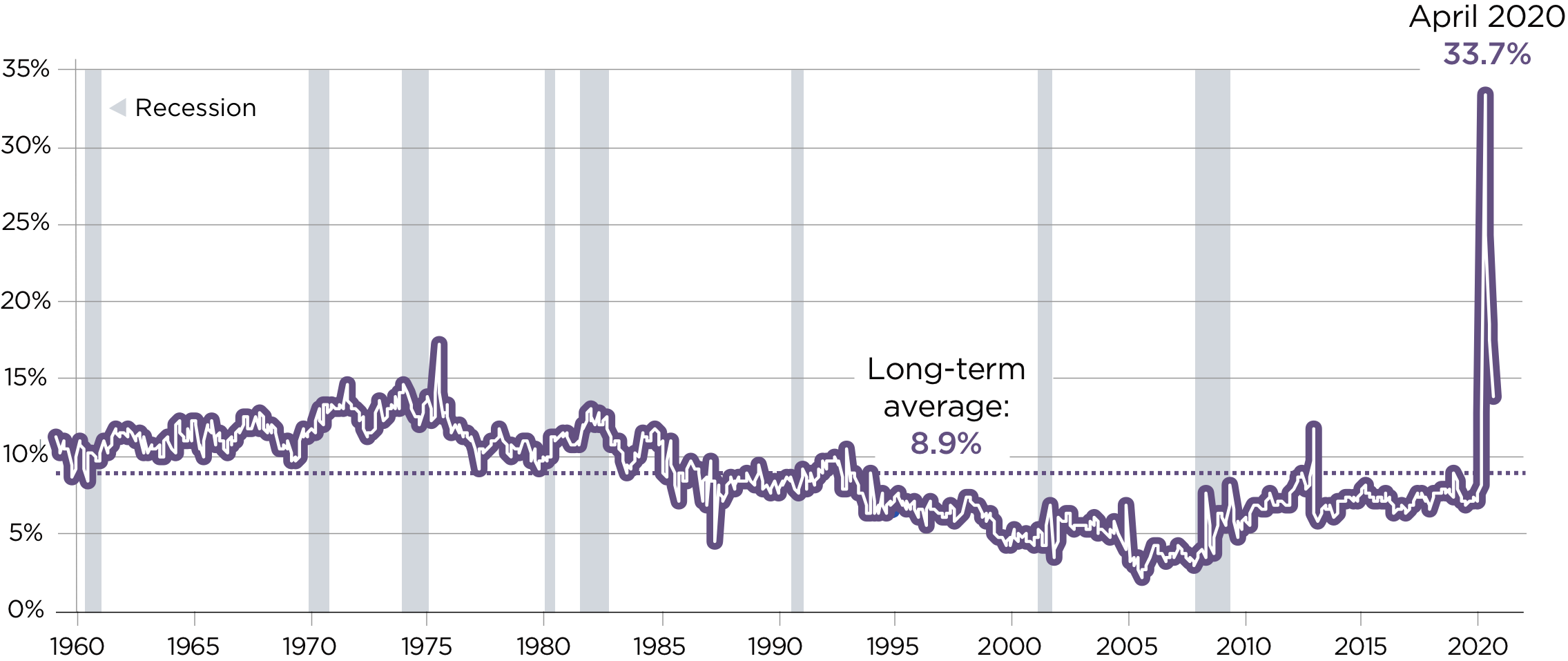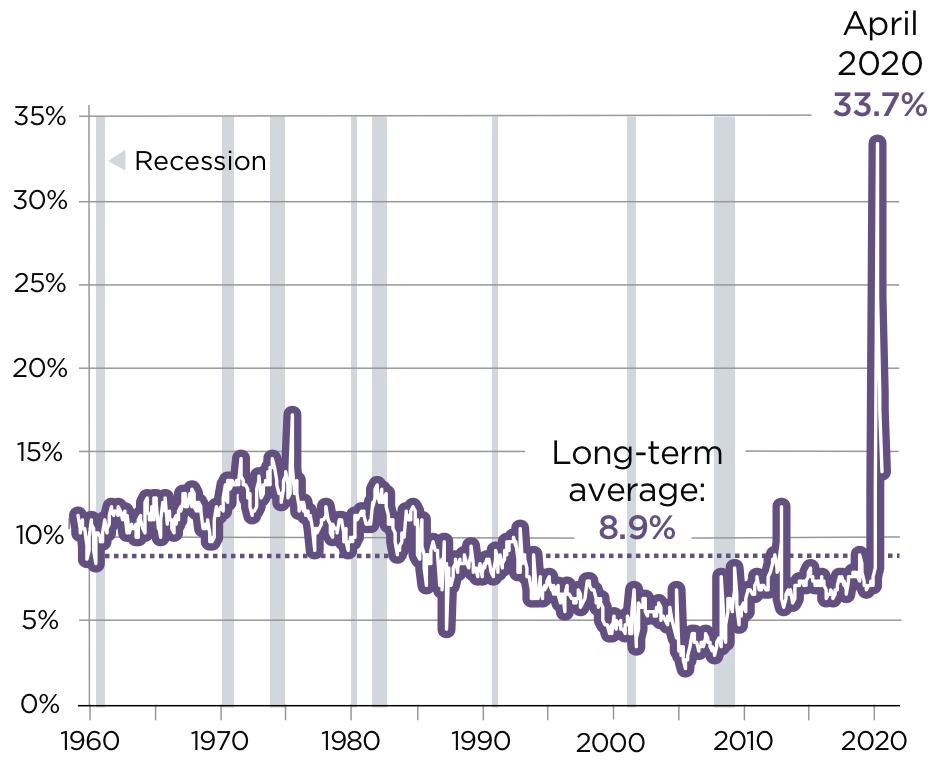 Sources: Bureau of Economic Analysis, Macrobond. Data as of August 2020.
Debt: Households generally came into this recession in a better relative position compared to the 2008–2009 financial crisis (65% of GDP as of 4Q 2019, compared to 84% of GDP in 4Q 2007), and debt levels were pared back in 2Q 2020 due to reduced credit card spending.14 However, the most recent Federal Reserve survey of loan officers suggests that bank lending standards have tightened, which in turn implies low-income households may find it harder to borrow.15
Fiscal stimulus went a long way toward insulating aggregate consumer spending from the full impact of employment declines. But those impacts are waning and another round of fiscal stimulus might not be enough to prevent an inflection point that further exacerbates the income inequality divide.
The way forward
As we look ahead to 2021, a slower return of low-income jobs could make it more challenging for these households to sustain spending levels. The true impact of the current two-speed recovery of low- vs. high-income workers could emerge over coming quarters. Weaker aggregate consumer spending could lead to more business closures and permanent job losses. In addition, fewer low-income job opportunities may encourage the reallocation of workers from the most impacted service sectors (like leisure and hospitality) to others with higher demand. However, many workers will lack the education or other means needed to make this transition and instead will drop out of the labor force altogether. Education may well be an increasingly important determinant of the winners vs. losers in the post COVID-19 labor world.
The longest-lasting effects on the dynamic of inequality could arise if elected government officials perceive that their mandate is to enact populist policies that directly target inequality. The risk of some of these approaches, like higher taxes, an elevated federal minimum wage, or a much larger role for the government in the economy, have the potential to dampen business sentiment and weigh on equity markets. In our view, a new round of robust fiscal stimulus or a marked near-term improvement in the virus situation would be most helpful in arresting the growing economic equality divide plaguing our economy and society.
1. https://www.cbo.gov/publication/56575
2. https://www.oecd.org/social/in-it-together-why-less-inequality-benefits-all-9789264235120-en.htm
3. https://www.federalreserve.gov/monetarypolicy/guide-to-changes-in-statement-on-longer-run-goals-monetary-policy-strategy.htm
4. There is a persistent differential for these groups relative to the national rate, but this was exacerbated for Hispanics (from 0.9 percentage points (ppt) higher than the national rate in February to a peak of 4.3ppt in May, and still remaining 2.6ppt higher as of September. For African-Americans, the differential has widened from 2.3ppt in February to 4.6ppt in August, still remaining elevated at 4.2ppt in September
5. https://www.bls.gov/news.release/pdf/flex2.pdf
6. https://www.hamiltonproject.org/assets/files/AutorReynolds_LO_FINAL.pdf
7. https://www.wsj.com/articles/companies-step-up-distribution-automation-under-pandemic-strains-11597224602
8. https://www.bloomberg.com/news/articles/2020-09-29/disney-to-lay-off-28-000-u-s-resort-workers-amid-deep-slump
9. Median family wealth is $171,800, while mean family wealth is $897,200 (when including the value of defined benefit pension assets) according the Federal Reserve's Survey of Consumer Finances data from 2019 https://www.federalreserve.gov/econres/notes/feds-notes/wealth-and-income-concentration-in-the-scf-20200928.htm
10. WTIA calculations using S&P 500 data from Macrobond.
11. https://opportunityinsights.org/wp-content/uploads/2020/05/tracker_paper.pdf
12. https://bfi.uchicago.edu/wp-content/uploads/BFI_WP_2020109.pdf
13. https://bfi.uchicago.edu/wp-content/uploads/BFI_WP_202062-1.pdf
14. Federal Reserve Bank of New York, Bureau of Economic Analysis, WTIA
15. Federal Reserve Senior Loan Officer Opinion Survey on Bank Lending Practices
Learn More
Let's have a conversation about what the insights and trends revealed in our 2021 Capital Markets Forecast could mean for your investment portfolio and overall wealth management plan.