Accelerating productivity
Perhaps counterintuitively, recessions can act as a catalyst for higher productivity through cost-cutting and labor force reductions. Recovery may be slow, but leaner cost structures and adoption of technology can drive productivity materially higher in the future.
As anyone who has read our previous Capital Markets Forecasts knows, we have an intense focus on the productivity of firms and the overall economy as a key driver of growth, profitability, wages, and long-term labor market dynamics. In 2019, we covered the nascent Fourth Industrial Revolution built on new technologies. In 2020, we argued productivity was finally picking up in the official statistics and was also being mismeasured to the downside for multiple, intersecting reasons, creating a puzzle. With the COVID-19 pandemic and resulting economic turmoil, our conviction on the topic is stronger than ever. We expect faster adoption of new technologies by firms as a result of the recession, and that adoption will accelerate productivity, enabling stronger growth and competitiveness for years to come. The unfortunate downside is shedding of jobs in the near term as firms become lean to preserve their futures. Firms that engage in these changes will be the most competitive and profitable in the longer term. At the macro level, nations that engage most in protection of job loss in the near term are likely—and paradoxically—reducing their long-term productivity trajectories. Given the paramount importance of employment to individuals and households, this sets up a painful societal tradeoff.
Productivity growth around recessions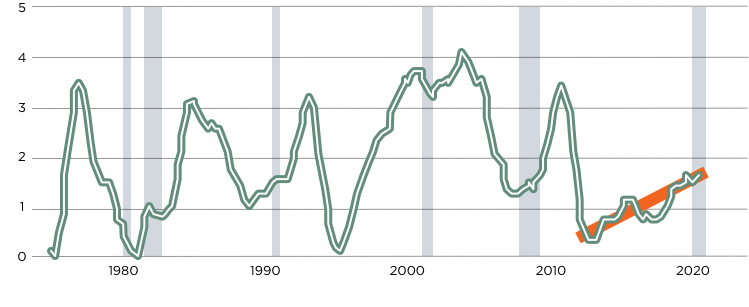 2-year productivity growth %Recent accelerationRecession
Source: Bureau of Labor Statistics.
Firms and technology adoption
There's a paradox between the technologies we see and the lack of productivity growth in the official data. We observe and can see the life-changing potential of robotics, artificial intelligence, 5G networks, the Internet of Things, self-driving vehicles, blockchain, big data, augmented reality, and countless more innovations. Yet, the official statistics on productivity remained so weak through the recent expansion that they generated a debate on the nature, causes, and outlook for future growth among the brightest minds on the topic.
In our view, there are myriad reasons for the disconnect including investment delays, cyclical and structural factors, firms' strategies to gain market share that obscure the productivity data, and some gains not showing up as GDP but as social progress. Indeed, measured productivity growth was continuing to march higher heading into the COVID-19 recession but was still well below previous experience.
It should not be surprising when new technologies fail to immediately push higher the productivity of an entire economy or even a single industry, as history shows previous major innovations took decades to be fully adopted.1
Productivity 101
To understand the correlation between new technologies and productivity, let's start with the basics:
It doesn't happen overnight
Sometimes it takes decades for new technologies to have an impact.1 These technologies didn't accelerate production until long after they were introduced: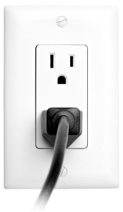 Electrification
30 years after development, about half of U.S. manufacturers had still not electrified.2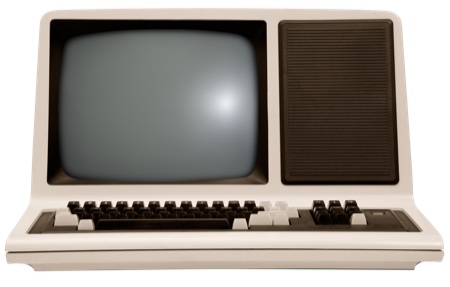 Computers
Mass adoption of computers didn't come until 25 years after the invention of the integrated circuit.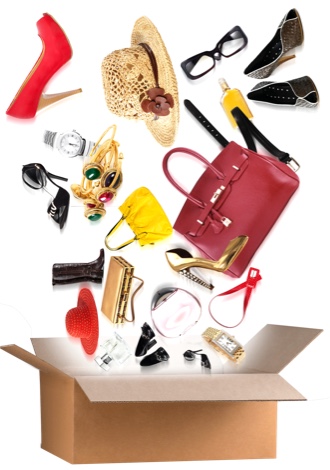 Online Retail
Developed in the 1990s but only a true force 20 years later; in the past decade or so.
Why the Delay?
Businesses must complete all three steps below in order to reap the benefits of new technology.

Investment
Firms must make the dollar investment in technology whether it is physical capital or software, or both.
Organizational changes
Firms must reorganize internal processes and the interaction of capital and labor, often resulting in eliminated jobs.
Human capital
Firms must have workers capable of using the new technology—from internal training, outsourced training, or hiring new graduates.
How recessions impact technology adoption
Perhaps counterintuitively, recessions typically accelerate the process of adoption. Research shows that during recessions, firms are incented to invest in innovation and also engineer the necessary organizational changes.3 On the first point, the price tag of the technology might not change in a downturn, but the opportunity cost of foregone profits is much lower and provides a window for a firm to do so. This can actually deepen the recession if done by enough firms, because firms cut their production in order to implement the new investments, reducing their output more than the recession by itself would dictate.
On the second point of organizational changes, there are two forces at play:
The first is firms might not feel the heat to make necessary changes in a strong economy. One can imagine a firm that buys the newest, fanciest software, robot, or production line, but doesn't slash employment right away. The firm perhaps isn't even aware how much it can reduce headcount with the new tech until they are forced into it.
The second force is the mere fact that organizational changes resulting in layoffs are uncomfortable actions for any empathetic CEO. Management must also consider the impact on morale of unaffected employees. Recessions give some incentive to reduce labor costs and also some "cover" to do so. The result, shown in theoretical research and in empirical evidence is: higher adoption of technologies and new processes during recessions; a bigger hit to output as firms reorganize; permanent job losses from the new technology; and higher productivity over the longer term. This impacts the longer-term profitability of firms that undertake the investment and reorganization during recessions. Strong equity performance is pulled forward for those firms as markets recognize the higher future profits.
The effect on employment
The adoption of new technologies has negative ramifications for short-term employment even before considering a recession. In fact, theoretical models can replicate and predict the experience felt over decades of jobs engaged in routine tasks (think manufacturing) on a downward trend as those sectors become more capital-intensive. The same models also show the steady gain in lower-skill non-routine work and higher-skill non-routine work. Last, the model predicts out-of-work individuals voluntarily returning to education to boost their skills in a changed economy, a result that is also borne out in empirical data.
The impact on Jobs
New technologies eliminate routine manual jobs and create non-routine manual and cognitive jobs over time.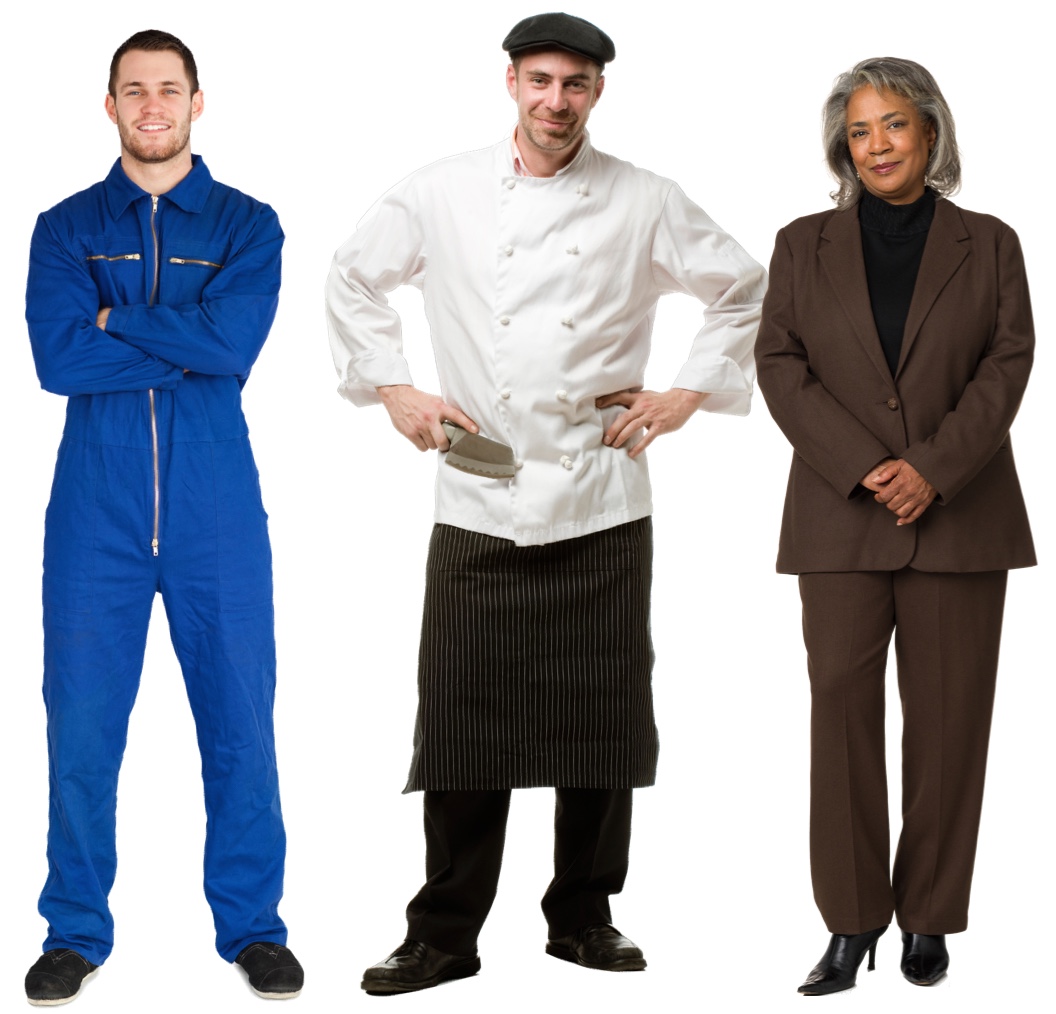 Routine
Manual
Construction, manufacturing, production, etc.
Non-Routine Manual
Food prep, personal care, retail, etc.
Non-Routine Cognitive
Managers, architects, artists, etc.
Source: Alexandr Kopytov, Nikolai Roussanov, and Mathieu Taschereau-Dumouchel, "Short-Run Pain, Long-Run Gain? Recessions and Technological Transformation," National Bureau of Economic Research Working Paper Series (March 2018), http://www.nber.org/papers/w24373

When recessions and expansions are included in the model the effects are amplified, with job losses exceeding what would be expected given the depth of the economic shock. Firms undertaking the new investment reduce their output, as discussed above, and also make deeper job cuts than is merited by the depth of the downturn because they are reorganizing at the same time, making those changes permanent.
The hit to employment could be even worse in this recession
One possible daunting takeaway from the above research is the nature of COVID-19 and its permanent impacts on specific sectors. The loss of jobs that involve doing routine tasks, such as in manufacturing, has historically been compensated for with growth in service jobs. As we show in our "Who will be left standing?" segment, several industries such as restaurants, hotels, travel, and entertainment that supply such jobs face extremely challenging conditions and perhaps a "new normal" that would impair job growth.
As if that were not enough, related research shows that long expansions lead to weak jobs recoveries in the next expansion.4 This result derives from the same dynamic described above: Adoption requires reorganization and firms are more likely to take such actions during a recession. During a very long expansion, those "delays" in reorganizing labor translate to a buildup of inefficiencies across firms. When the next recession comes, there is more reorganizing to do and more jobs to be cut. As is well-known, the U.S. entered the COVID-19 recession following the longest expansion in its history—eight months longer than the boom of the 1990s. If longer expansions do indeed lead to buildups of inefficiencies, the impacts of the coming reorganization could be felt for years.
How will this recession impact different countries?
The implications of productivity are of great importance for investors in terms of the firms that will benefit and also for inter-country comparisons. The slowdown in growth is not limited to any single country but a phenomenon felt across nearly all major developed economies. The longer-term productivity growth of major industrialized nations has been in a downtrend for decades. Firms in these industrialized nations have access to capital and the means to invest in new technologies.
Labor markets can differ greatly from country to country, though especially in the relative flexibility that firms have in making sweeping changes and reorganizing headcount. In placid times, firms with more rigid labor market policies are believed to curtail their long-term dynamism and growth potential precisely because they limit firms' abilities to make those organizational changes.
The aftermath of the COVID-19 recession will provide a proving ground of sorts for the arguments laid out above, as nations have responded to the pandemic quite differently. All have experienced labor market disruption and have acted to contain the fallout to some degree. The U.S. attempted to mitigate job losses at small businesses directly through the Paycheck Protection Program administered by the Small Business Administration. Other attempts to stem the economic damage came on the so-called "demand side," by sending stimulus checks to households and also by boosting unemployment insurance benefits to those who lost jobs. By contrast, European nations generally used programs to keep workers on their employers' payrolls by subsidizing their wages and salaries,5 and kept unemployment rates from skyrocketing through 2020. Whether these programs are able to keep unemployment rates low depends on how long those countries are willing to keep them going.
The price of productivity: U.S. vs. Germany

Sources: Bureau of Labor Statistics (BLS), Bundesbank.
The research discussed above suggests those countries currently protecting their labor markets might be curtailing their long-term growth prospects if they forestall organizational changes from occurring. The current European model of preventing job losses is mostly modeled off the German Kurzarbeit program, used in the 2008–2009 financial crisis era to generate the "German miracle" of low unemployment in the global crisis. But that effort may eventually cost the German economy productivity gains, as seen in the decline that started in 2017 in the chart above. The U.S. response to COVID-19 did include direct efforts to prevent layoffs both in specific industries such as airlines, and also to small businesses through the Paycheck Protection Program. However, the largest pillars of the U.S. response, such as direct payments to households and supplemental unemployment insurance, were aimed at strengthening spending while most European economies followed Germany's example to subsidize payrolls and prevent job losses. We believe the long-term ramifications could be much like previous episodes and follow the research, resulting in U.S. firms being relatively more productive and profitable on a structural basis over the longer term. The choice between current labor markets and future productivity is a painful tradeoff, and the decisions made today will reverberate through firms and economies for decades to come.
1. Erik Brynjolfsson, Daniel Rock, and Chad Syverson, "Artificial Intelligence and the Modern Productivity Paradox: A Clash of Expectations and Statistics," National Bureau of Economic Research Working Paper Series (November 2017), http://www.nber.org/papers/w24001
2. Paul David, "Computer and Dynamo: The Modern Productivity Paradox in a Not-too-Distant Mirror," Technology and Productivity: The Challenge for Economic Policy (1991); https://warwick.ac.uk/fac/soc/economics/research/workingpapers/1989-1994/twerp339.pdf
3. Alexandr Kopytov, Nikolai Roussanov, and Mathieu Taschereau-Dumouchel, "Short-Run Pain, Long-Run Gain? Recessions and Technological Transformation," National Bureau of Economic Research Working Paper Series (March 2018), http://www.nber.org/papers/w24373
4. Kathryn Koenders and Richard Rogerson, "Organizational Dynamics Over the Business Cycle: A View on Jobless Recoveries" Economic Research, Federal Reserve Bank of St. Louis (July/August 2005), https://files.stlouisfed.org/files/htdocs/publications/review/05/07/Koenders.pdf
5. Jonathan Rothwell, "The effects of COVID-19 on international labor markets: An update," Brookings (May 27, 2020), https://www.brookings.edu/research/the-effects-of-covid-19-on-international-labor-markets-an-update

Chief Economist Luke Tilley provides an overview of the implications for the COVID-19 recession on firms' productivity, profitability, and equity performance.
Learn More
Let's have a conversation about what the insights and trends revealed in our 2021 Capital Markets Forecast could mean for your investment portfolio and overall wealth management plan.