Contributor
Tony Roth, Chief Investment Officer for Wilmington Trust Investment Advisors, Inc. View bio
The Great Pandemic that greeted 2020 sent shockwaves through the world, setting into motion monumental shifts in the ways we interact, work, and learn. In many cases, COVID-19 acted as a force of destruction analogous to a natural disaster of global proportions. However, in certain instances, the pandemic gave us the opportunity to refocus on what matters most and even jump-start a new technology-enabled era. The virus has spread invisibly through the world but left a very visible trail of changes in its wake. We can see it in the small, local Italian restaurant that has had to figure out very quickly how to digitize its business and expand its delivery operation; in the proprietor who has pivoted from her traditional catering business to selling at outdoor farmers' markets and teaching online cooking classes; in the astronomical amount of public and private debt that has been issued in 2020; and how educators have had to adapt their ways of teaching our children. After a 10-year economic expansion, the virus hit the "reset" button on the U.S. economy, wiping out all of the job gains and much of the economic progress in a single fell swoop. The recovery will take time.
Chief Investment Officer Tony Roth introduces the 2021 Capital Markets Forecast for Wilmington Trust, a member of the M&T family. Listen as he reveals what his team expects to see unfold in the coming year and beyond.
What is unique about this natural-disaster-of-sorts is how long it has already endured and whether the impacts will, in fact, become permanent. Typically, a crisis results in a disruption, a temporary altering of behavior, followed by a relatively swift return to normal once the crisis passes. Studies show, however, that the longer a new pattern of behavior lasts, the more likely it is to become a habit. An individual who suffers a heart attack, for example, becomes a quick convert to healthy eating, and if that new pattern lasts long enough it may become a lifelong behavior. But often, once the initial scare subsides, cheeseburgers gradually find their way back into that person's diet. Which of our COVID-induced and technology-enabled "habits" will become an indelible part of our post-crisis normal remains to be seen. After all, humans have a primal need for social interaction, and there is no realistic amount of time that could erase that need indefinitely.
Add to the mix a new U.S. president with an agenda in stark contrast to that of his predecessor. President Biden proposed major policy changes during the campaign for personal taxes, corporate taxes, trade, regulation, energy, and health care that, if enacted, would combine with the virus impacts to shape the contours of the recovery. The Democrats taking control of the Senate (albeit narrowly) suggests more of the policy agenda could be enacted than under a divided government. However, the policy outcome may well be quite different from the campaign platform given the wide spectrum of views within the Democratic party that will need to coalesce to support new legislation.
As investors, it is vital for us to identify and project the clear as well as the more subtle second-order changes and trends to the economy, consumer behaviors, and business models. Equally critical is the need to distinguish between the transformations that will be fleeting and those that will likely persist. Encouragingly, vaccine developments are meeting and exceeding expectations with all major candidates proving safe in the early stages and one showing higher-than-anticipated effectiveness in the final stage. If deployed soon enough, the medical success could mitigate the persistent effects for businesses. In our 2021 Capital Markets Forecast, our analysis focuses on the following themes:
Theme 1
Pivoting the Business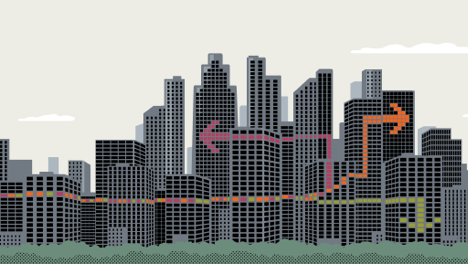 The pandemic has forced businesses across industries and regions to make difficult and pivotal decisions related to the way they operate, invest, partner with other companies, and manage supply chains. It has threatened entire business models while giving others a huge push forward. The decisions companies are making are occurring rapidly but will have lasting impacts on corporate profitability, economic productivity, and the attractiveness of various investments. Over 100,000 U.S. small businesses have shuttered in light of COVID, yet a new wave of business is being born at the fastest rate in over a decade in response to innovation and pent-up, refashioned demand.
1
Among other conclusions, we expect to see an acceleration of productivity gains but at the cost of labor market growth; consolidation is likely in financials, retail, and some areas of technology; and we foresee corporate real estate footprints shifting from urban to suburban environments.
Theme 2
Paying for the Pandemic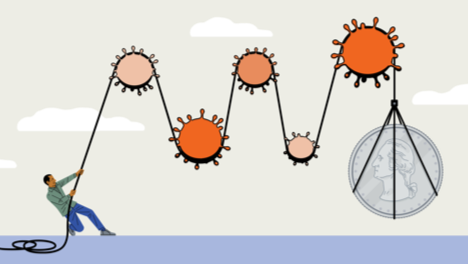 Make no mistake about it: We will be paying for this pandemic in various ways for years to come. The cost of COVID-19 includes the enormous amount of government and corporate debt that has been added to support the economy, long-term inflation dynamics, and even pandemic-related effects on income inequality. As we discuss, the growing government debt burden will likely lead to longer-term upward pressure on inflation and interest rates, while at some point requiring the raising of revenues or cutting of spending, all of which will have the likely impact of curbing economic growth over the next decade.
Theme 3
Navigating the New Market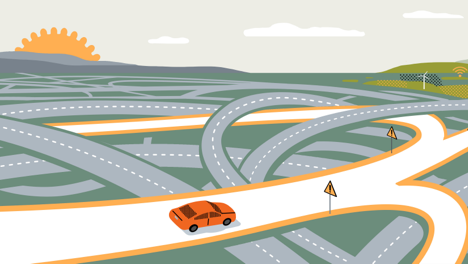 As we look into the future, the acceleration of consumer and business trends resulting from the virus creates compelling investment opportunities. We identify opportunities related to the digitization of the consumer and ESG (environmental, social, and governance) principles, which we believe are critical investment strategies for the next decade. Yet, not all of the transformations to the investment landscape have been as welcomed, and the pandemic has made apparent some fractures in the marketplace that will likely lead to more volatility going forward. We conclude that, despite the outperformance of technology in 2020, we expect the overall tech sector to continue to play a leading role longer term, while in the shorter term some broadening of the market is inevitable; separately, investors may want to consider hedging their portfolios accordingly.
Evolving our approach
Instead of the single commentary we have developed in years past, our 2021 forecast will be delivered in a series of modular components, gradually released over the fall, and delivered via a variety of mediums that are engagingly interactive, dynamic, and animated. We encourage you to check back often for updates as content on the three themes and much more are added to our website.
Yes, the pandemic undoubtedly shocked the world to its core and our lives will be forever divided into a "before" and an "after" that is characterized by accelerated, heightened digitization. We stand on the precipice but believe there is a way to the other side. By projecting and identifying the unfolding trends—both short-lived and abiding—our team builds the portfolios we believe are best positioned to capitalize on the opportunities and sidestep any challenges ahead.
1. https://www.washingtonpost.com/business/2020/05/12/small-business-used-define-americas-economy-pandemic-could-end-that-forever/
* As of this writing, Joe Biden has been declared by major news outlets as president-elect of the United States, while the country awaits results of recounts and court challenges.
Meet a Wilmington Trust Investment Professional
As part of our 2021 Capital Markets Forecast, our team will be hosting a series of virtual events to answer your questions. Watch this space for new events as they are scheduled.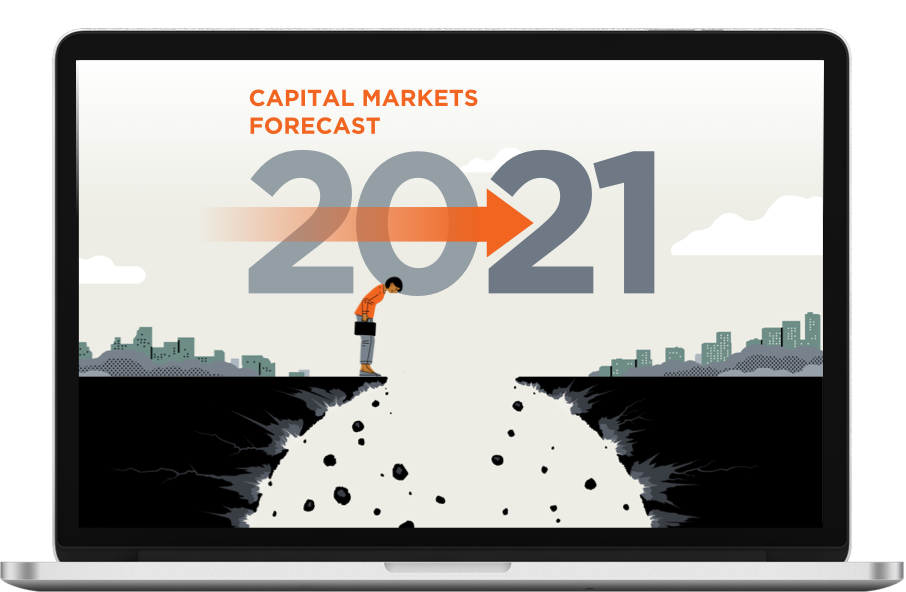 Tues., Nov. 17
11 AM ET
Listen to a sweeping overview of the entire forecast—the accelerating trends and the transformed financial landscape—as well as the potential impacts of a new administration on portfolios. Don't miss it!
Replay
Tues., Dec. 15
12 PM ET
What will technology's role be post COVID? Dr. Poppy Crum, Chief Scientist at Dolby Laboratories, explores the subject and delves into the implications for the human experience.
Replay
Learn More
Let's have a conversation about what the insights and trends revealed in our 2021 Capital Markets Forecast could mean for your investment portfolio and overall wealth management plan.